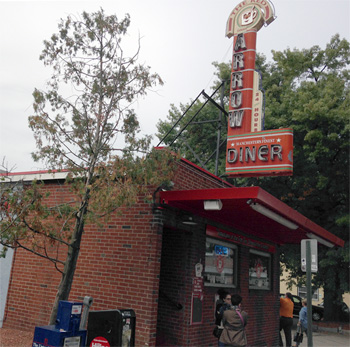 On Saturday, I ate breakfast at the Red Arrow Diner in Manchester, NH. The diner is famous as a stop for presidential candidates looking to talk with local voters, and be photographed doing so. There weren't any prospective presidents there on Saturday, so it was just me, along with many customers crowded into a pretty small space. There was definitely a lot of energy in the room: lines of people waiting for tables, waitresses yelling back and forth while chatting with customers and delivering their orders, and customers talking with each other. Amid all the noise, one thing caught my attention: a waitress serving a meal to a blind customer. She cut his food into small pieces, then handed him his silverware and told him where on the plate each part of his meal was. A nice bit of humanity.
BTW, I was in New Hampshire to attend a talk by NPR reporter Nina Totenberg, on the Supreme Court, which she has covered for many years. The talk was presented by my website client Constitutionally Speaking. I'll be posting video of the talk on their website soon, and I'll update this post to provide a link to those who want to watch it.
Update: You can watch the video here.